In late August 2010, I flew east from Victoria to be writer in residence at the University of New Brunswick, landing at the Fredericton airport the night before Hurricane Earl made landfall. To a boy who grew up in Calgary, the hail capital of landlocked Alberta, the prospect of a hurricane was exotic. Fortunately, news of Earl was overblown, and it hardly made a ripple in the St. John River, though for two or three minutes I did get drenched by very warm rain outside my new apartment, bested by a key that didn't work.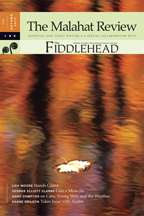 The Malahat Review's
East Coast Issue
The impact of my time in New Brunswick turned out to be much more profound. I came to know a province with a literary heritage many outside of Atlantic Canada would be surprised to view as a cradle of our national literature. Charles G. D. Roberts was born and raised in Fredericton, as was Bliss Carman, whom I discovered grew up on Shore Street not far from my great-great-grandfather's on Waterloo Row. As a boy, Bliss must have known my great-grandmother, for they were only a year apart. For me, this place and its literature quickly became more personal.
Over the winter of 2010–11, Ross Leckie,
The Fiddlehead'
s editor, and I agreed our magazines should each publish an issue celebrating the writing of the other's coast in a kind of East-meets-West entente cordiale. Though by reputation, both magazines are known to be national, even international, in scope, each is also intrinsically regional, though I should only speak for the
Malahat
about a dichotomy that I nevertheless suspect is true of many magazines.
Who can guess how many copies of
The New Yorker
are read locally? Last year, 40% of
Malahat
contributors and 30% of
Malahat
subscribers were from B.C. in comparison to 10% and 6% respectively from Atlantic Canada. Past years affirm this snapshot as a standard view. Though, as a frequent contributor of my own work as a poet to literary magazines nationwide, I'd hate to believe there's a correlation between contributing and subscribing, the editor in me wonders.
"Essential East Coast Writing," the name we have chosen for this theme issue, brings together poets, practitioners of the short story, and creative nonfictionistas from across the region and elsewhere. Some of our contributors should be familiar to anyone who follows Canadian literature even in a passing manner. Lisa Moore, Michael Crummey, and George Elliott Clarke are immediately recognizable as writers who've broken through the obscurity that besets even the finest of writers (whom we usually identify as "writers' writers") to enjoy international reputations.
Other names may be little known or unheard of elsewhere in the country—and even within their own regions. Claire Kelly, an émigré from Ajax, Ontario, makes her
Malahat
debut with two superb poems that bring Fredericton past (Oscar Wilde) and (no longer) present (Alden Nowlan) into vivid actuality, while Kerry-Lee Powell (also a transplant, whose poetry in
The New Quarterly
received an honourable mention in the most recent National Magazine Awards) contributes a quirky short story about the exotic demimonde prospering—or is it languishing?—behind the facade of suburban life.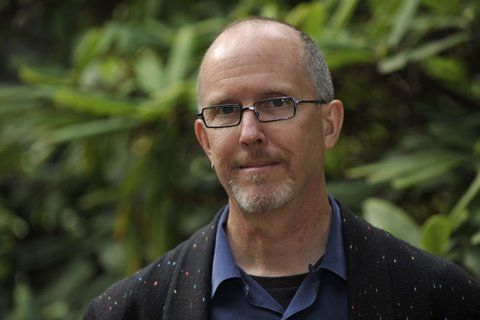 John Barton, Editor, The Malahat Review
This mix of established and emerging writers has been very intentional in the curatorship of the issue and is in sync with
The Malahat Review'
s long-established mandate to publish these two solitudes of the writing world in near equal numbers. Perhaps "essential" also means "the unexpected." We allowed the democracy of the unsolicited submission, albeit sent in response to our call for East Coast writing, to guide how we found and secured content.
It is a House of Commons of sorts, if you like, though we did allow the occasional sober second thought to spur us in a high-minded way to solicit work from a handful of the very notable, if only to ensure their writerly experience would add lustre to these pages. I especially remember how exciting it was, at the beginning of my own writing career, to be published alongside such betters (mostly writers that I continue to admire) in the very same issue of some august literary magazine. For the aspiring Matt Cornfields of this dog-eat-poet world, I hope this is still true.
Speaking of dog-eat-poet, M. Travis Lane makes a very crucial point in the in-depth interview conducted with her by Anita Lahey, herself a poet,
Arc'
s former editor, and a temporary citizen of New Brunswick who has since gone down the road to Toronto in good Atlantic fashion, though in her case, she returns to be in closer proximity to her Ontario roots at the expense, maybe, of others equally vital in Cape Breton. In the interview, Lane recalls a point made by Alden Nowlan in the mid-1970s that the writing of Atlantic Canada has been neglected by the rest of Canada—a point with which Lane continues to concur, if I am reading the tone of her remarks correctly.
It's almost as if the persistent have-not epithet that the nation-state we live in has used to characterize the economic health of the majority of Atlantic Canadians has been extended to taint their culture as well. While everyone inside and outside the region recognizes the remarkable success of many of its authors, particularly the Newfoundland novelists (all citizens incidentally of a province apparently now drawn into the slippery embrace of the haves), it's time for the rest of Canada to read the vibe more attentively. We need to catch wind of what everyone who lives t/here has known for decades: that all four provinces have evolved multi-faceted and multi-authored literatures more than a century deep, literatures that each speak with a distinctive accent and that collectively have an authenticity that evokes a thoughtful and lasting sense of "Atlanticity"—and by this, I do not mean Atlantic City.
We should not allow ourselves to write Altantic Canada off or characterize it solely as the salt-misted home of Anne of Green Gables, no matter how widely Lucy Maud Montgomery's books are still read around the world by an audience whose 104 years of devotion puts much-loved writers like Alice Munro and Margaret Atwood in a more modest and contemporary light.
What Canadian literary heroine other than Anne has enjoyed having a pavilion constructed in her honour at a theme park like Canadian World, which opened on the island of Hokkaido in Japan in 1990? Can you imagine anyone being so enamored of
The Edible Woman
that they'd consider building a theme-park attraction about Marian McAlpin? Or about
Oryx and Crake'
s Snowman, perhaps as an avatar in some virtual post-apocalyptic zoo?
I can, which is vaguely frightening.
And even if my most tangential fears are never realized, I should not take any comfort in learning that the Anne of Green Gables exhibit on Hokkaido was sadly a temporary tribute. After a mere decade of renown, it turns out that Canadian World closed soon after the collapse of the local coal-mining industry ushered in economic hardship in 1999—a terrible fact of life those in the cod fishery should identify with. Maybe, when it comes to adulation, Anne, it's the thought that counts—if that's any solace.
But I digress (as usual).
My main point is this:
Our assumptions about almost anything inevitably lead us astray. It's much better to approach whatever is unknown to us or, worse, previously ignored by us, with avid and humble curiosity.
This issue and our collaboration with
The Fiddlehead,
have been conceived of to challenge set ideas and to stimulate interests that will take you far beyond the pages of our all-too-brief issue. Such abiding interests often require years to sate, if that were ever possible once you realize what lies ahead, and ready for the reading. What we offer you here is simply a foretaste, I hope, that is representative of some aspects of East Coast writing.
I also encourage you to peruse
The Fiddlehead'
s West Coast festschrift, not for comparison's sake, but for the windsock of crosscurrents it likewise gives shape to.
Don't wait for a hurricane to shake you free of what you think you know.
John Barton
Editor